Login
Log in if you have an account
Dont have an account? Register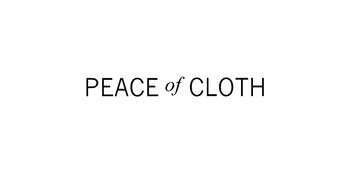 Peace of Cloth
Peace of Cloth is a community of individuals working together to deliver quality products while employing fashion as a vehicle to make a positive influence in the lives of others. While best known as a line of impeccably fitting fashion staples for the modern lady, Peace of Cloth truly exemplifies something even greater, approaching all aspects of business and philanthropy with a savvy head and caring heart.

Founded in 2006 by Alex Garfield and Jaime Nortman, and sprouted from Alex's renowned partnership at Garfield & Marks, Peace of Cloth has since grown to representation in hundreds of specialty stores throughout the US, as well as Nordstrom, Neiman Marcus Direct, and the world of e-commerce. The company's ever expanding success lends itself to Alex and Jaime's focused and well-balanced approach to customer service, design, sales and philanthropy.

In terms of fashion, Peace of Cloth is modern sophistication in an array of versatile styles for both casual and career wear. The collection is grounded in consistent fit and function, presented in classic silhouettes and elegant fabrications that are diverse and transitional. Peace of Cloth boasts the ideal style for any shape with superb fitting pants, jackets, skirts and shorts offered in a variety of fabrics and colors that are luxurious, washable, season-less and ideal for travel. Produced with a careful needle and textiles sourced mainly from France, Peace of Cloth brings fine quality and luxury to women seeking sophistication in their everyday style.

Peace of Cloth also stands is an advocate of self-worth, family and community. The proof lies in long standing relationships with fabric mills, employees, customers, and charitable organizations. As a long standing board member of Dress for Success and co-founder of Cure by Design in conjunction with the American Cancer Society, Alex Garfield has propelled Peace of Cloth into the forefront of businesses who give back to the community in style! On a smaller scale, every Peace of Cloth garment is made with love and the "affirmation labels" placed inside each pant and jacket give the wearer a positive message to consider every time she puts them on.